First some good news
Starbucks on the corner of Main & Hill reopened! It is Mobile Order only, so download the user-friendly Starbucks app, order & pick up a cup of joe. They are initially opened from 7 am to 3 pm.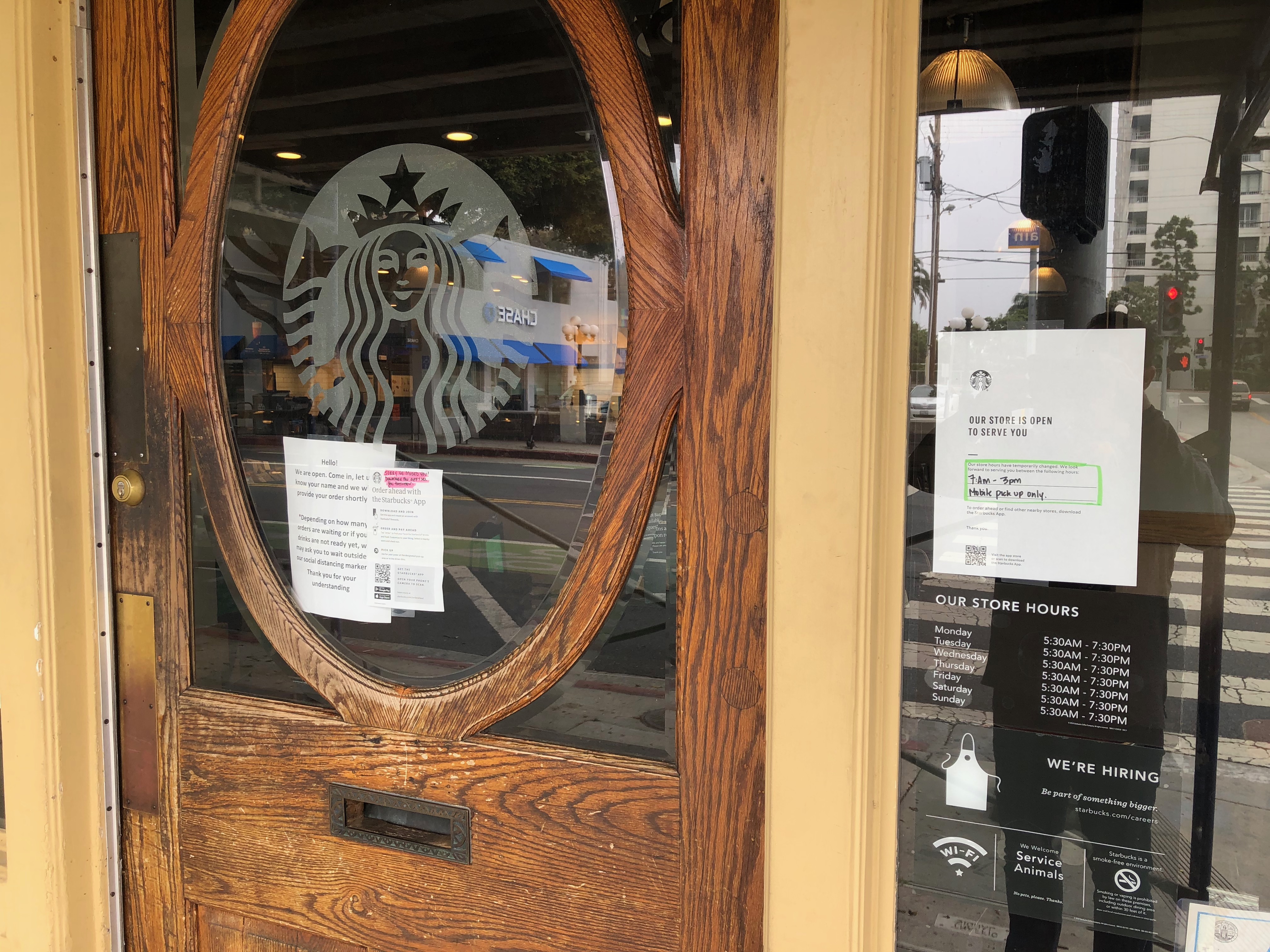 Emotional Implications of Covid-19 pandemic: The emotional & mental implications of the Covid19 global pandemic are hard to comprehend. Over 60,000 people, and counting, have died in the US alone, and in the resulting shut down, approximately 30 million people have lost their jobs. We are living under the constant reminder and stress of contracting a highly contagious virus, along with the uncertainty presented in our daily lives. Quarantine life has changed everything about how we live, and perhaps, forcing us to realize who and what are important to us. We all have our own stories and struggles to deal with, so I empathize with each of you. It is also my sincere belief that better days are ahead.
Economic implications of Covid-19 pandemic. The 1st Quarter GDP was announced today and it contracted by 4.8%, for Jan, Feb & March the economy contracted by 4.8% (this number will be revised to be even worse once the final data is in). The 2nd Quarter GDP numbers will be much worse (April, May & June). How bad will it be? A 20%, 30% or 40% contraction, that is certainly possible. We are currently in a deep & sharp recession. But as the economy and society "open back up," the numbers for the 3rd quarter & 4th Quarter will improve quickly. Meanwhile, hopefully, the medical community will come up with effective treatments during the next 6-9 months and a vaccine over the next 12-18 months. 2 years from now, we will look back on this horrible time and try to recall had bad it had been. Although for those of you who lost a loved one, life will never be the same.
Quality of Life in the Beach Communities: We live in Santa Monica, Venice and Marina Del Rey, some of the nicest stretches of the Ocean & Beach in the entire country. This is a highly desirable place to live. As long as the quality of life returns to our city, this will continue to remain true. (The 2 main factors that could undermine the value of life here include Main Street merchants failing to reopen and the Homeless population continuing to increase in our area, without implementing a long-term solution to address this complex challenge).
Residential Real Estate Outlook: If you are considering purchasing a home, your window of opportunity to do so, at a discount, begins now and goes thru the November Elections, or thereabouts. Realtors and Real Estate Associations will say that although inventory and sales volume are down sharply (25-35%), prices have remained stable. Nonsense. Prices don't stay at all time highs in the face of a pandemic. When the final numbers have been tallied, my own estimate is there will have been an approximately 10% correction in real estate pricing, some more, some less depending on the inherent value of those individual homes. But by the time these correction numbers have been reported, the window for a discount on purchasing a property will have closed. The worst of the pandemic will have passed, people will be able to go back out of their homes, live and spend, & the economy will improve. Before you know it, real estate prices will have recovered. (*Not for commercial or retail leases, or for income properties, but definitely for single family residential homes and condos.)
My Take Away: People realize the value and worth of their homes now more than ever, we view it as both a fortress and refuge from the world we are living in.The worst of this pandemic is over, it did expose some underlying fault lines in our society – Health insurance, Homeless, how we provide for our elderly in Assisted Living facilities, the Cost of the Prison System, and is Commuting even necessary etc. – books could be written about all this, and they will be. But jobs, businesses and the value of Beach-City Living will return. And as a local, long time resident, homeowner and realtor in Santa Monica, I can see that one day soon we will be able to walk to the beach, feel the sand beneath our feet, take an evening dip in the Ocean, and be thankful this is the place we call home. - Rob Maschio 4.29.2020